The Mandara - Ready For Occupancy House & Lot
Premium project of Suntrust in Tartaria Silang Cavite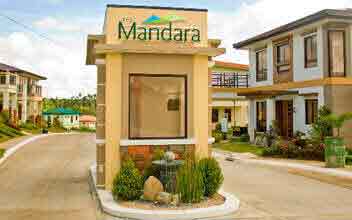 Project Type : House & Lot
Listing Type : Ready For Occupancy
Developer Name : Suntrust
Units : Lot
Price: ₱ 2,600,000 & Up
Address : Brgy. Tartaria, Silang Cavite
Location : Silang , Cavite PH The Mandara Suntrust The Mandara The Mandara Suntrust The Mandara Silang
https://suntrustthemandara.phproperty.com/
The Mandara is a luxurious and affordable residential condominium developed by the Suntrust Property Inc. in the city of Silang, Cavite. The development offers a resort inspired House and Lot property where a calm atmosphere, nature, and beauty come together. The development has an area of 14 hectares, and it features the majestic overlook of Mt. Makiling. The Mandara is located at Brgy, Tartaria, City of Silang, Cavite. Some of the nearby establishments in the area include Robinsons Mall, Xavier School, National Panasonic, and Target Mall.

The Mandara residents have different amenities and features to provide the residents with fun and convenience. The development has a wide infinity pool where residents can have a good workout or just relax and socialize on a hot day. The residence also has Water features and natural settings that provide residents a feeling of peace and tranquility. Another facility to look forward to In the residence is the Multipurpose hall with a parking space where residents can invite people to different gatherings and occasions like weddings and birthday parties.

The Madara offers different unit types to match the various needs and taste of home buyers. The units in the development includes Hana (floor area of 88 SQM and final price of Php 1.9M), Niran Single House (lot area of 176 SQM, floor area of 115 SQM, and last price of Php 4.37M), Amaya Single detached (floor area of 149 SQM, lot area of 176 SQM, and last price of Php 4.9M), and House and Lot unit( floor area of 171 SQM and final price of Php 5.6M).
Popular Links
The Mandara
The Mandara Location
The Mandara For Rental Units
The Mandara Resale Units
The Mandara Pre-Selling Units
The Mandara Showroom
The Mandara Amenities
The Mandara Price
The Mandara Contact
The Mandara Suntrust For Sale Price List

| Unit Name | Project Name | Developer | Price (₱) | Location |
| --- | --- | --- | --- | --- |
| Hana | The Mandara | Suntrust | 1,965,600 | Silang , Cavite |
| Niran Single House | The Mandara | Suntrust | 4,377,610 | Silang , Cavite |
| Amaya Single Detached | The Mandara | Suntrust | 4,928,376 | Silang , Cavite |
| House and Lot | The Mandara | Suntrust | 5,628,785 | Silang , Cavite |